"Old Faithful"
Falling
Film Evaporator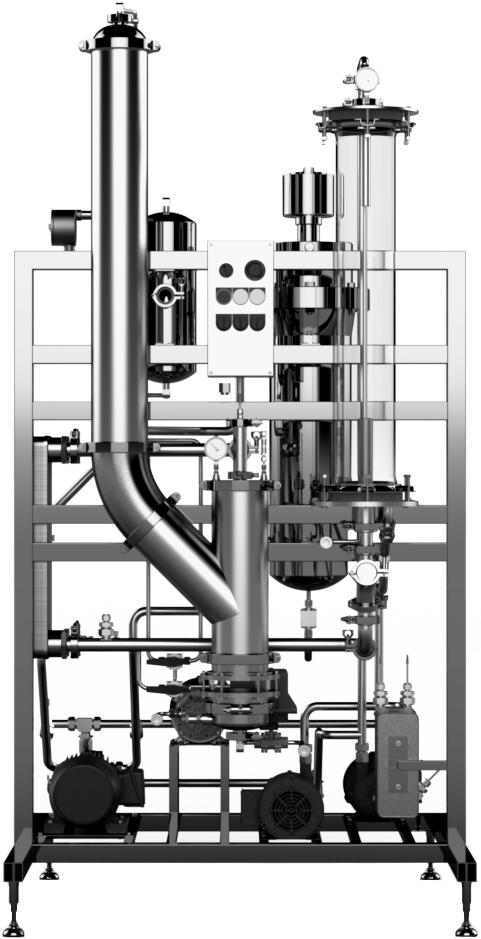 ---
Through intelligent, innovative, and patent-pending technology, our turnkey systems ensure effective and economical separation of your product. Outstanding solvent recovery rates, ease of use, and efficiency make a Yellowstone Falling Film Evaporator the best choice for your business.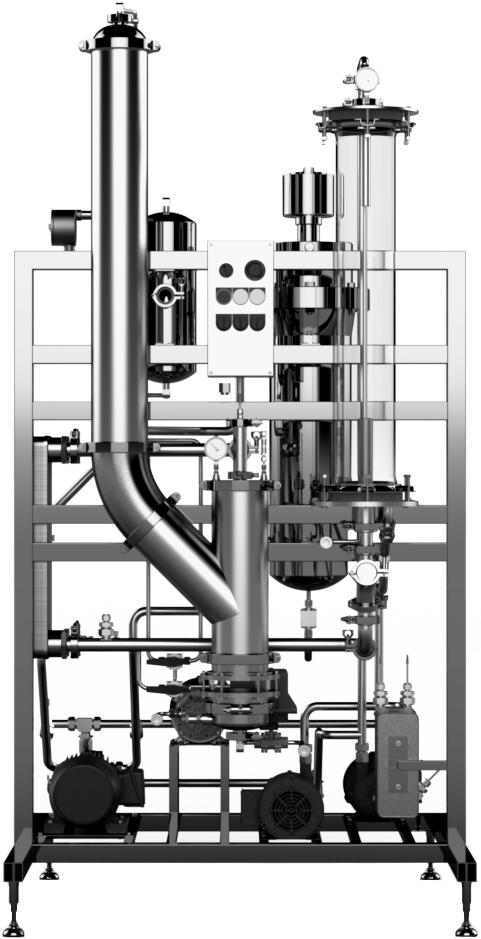 ---
---
Machine Specifications
Specs

Value

Voltage

480 V 3 Phase

Amperage

75.5 A

Wattage

60 kW

Alcohol Recovery Rate

80 GPH (300 LPH)

Operational Footprint

4' x 4' x 8'

Solute Max Temperature

194˚F (90˚C)

Dwell Time

5 Seconds

Additonal Equipment Included

Radiator & Control Panel
---
Our Machine
Energy Efficient
Through the use of patent-pending Diffusion Condenser technology, our Falling Film Evaporators have eliminated the need for unnecessarily expensive chiller systems by condensing using airflow. This drastically decreases the energy and water requirements for processing facilities. Yellowstone systems are designed to optimize energy, ensuring they operate at maximum efficiency.
Continuous Operation
Our Falling Film Evaporator integrates automatic control systems for ease of use and to decrease processing times. The dosing pump and automated draining systems allow for continuous operation with minimal operator input. Our proven evaporation and condensation rates ensures that you will be left with high purity concentrates and solvents, achieved at rapid speeds.
Small Footprint
Measuring at just 4' x 4' and 8' tall, the Yellowstone Extraction Falling Film Evaporator can easily fit in your facility, no matter the scale and size. Factoring in the additional space saved by eliminating chiller requirements, the Yellowstone system frees up valuable square footage.
Easy To Clean
The internal workings of the Yellowstone Extraction Falling Film Evaporator are designed to be easily cleaned in-place using an integrated cleaning cycle function. A clean process will optimize efficiency as well as eliminate contamination between batches.
---
How It Works
1

Evaporate

Evaporation in our 60 kW Falling Film Evaporator happens at nearly 20 times the speed of a 20L rotary evaporator. The oil and solvent mixture is pumped into the top of the Falling Film Evaporator where it is dispersed over the tube openings. As the mixture falls down the inner surfaces of the heated tubes, the solvent boils off by the time it has reached the bottom.
2

Purify

Contact with heated components is gentle and fast, ensuring that the oils are purified without degradation to the desirable compounds. Once the solvent and oil are separated, the oil drains from the system automatically and the purified solvent easily passes through as vapor before it is condensed.
3

Condense

Patent pending technology works to rapidly condense all the solvent. This is by far the most economical and energy efficient condenser available in the industry, as it replaces pricey chillers with a radiator requiring less energy input.