FFE
S-Series Pro
High quality products require high quality machinery. We design and build our S-Series Pro falling film evaporator to the highest standard in order to ensure that they can meet strict quality standards. Top of the line materials and meticulous documentation ensure that the S-Series Pro can seamlessly integrate into GMP facilities. See what sets the S-Series Pro apart below.

Request A Quote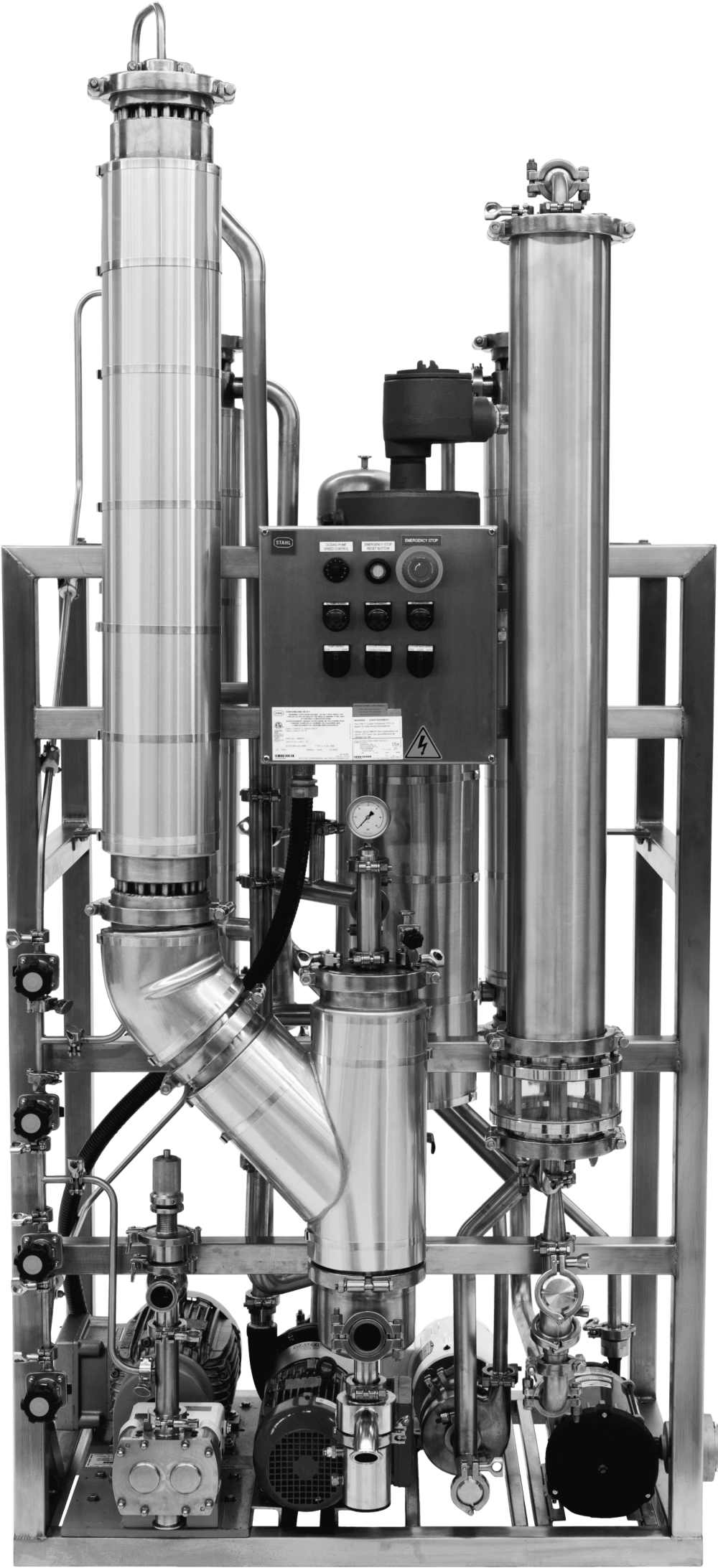 Double Tubesheet Heat
Exchangers.
Surface Finish.
Exterior Cleanability.
Drainability.
Product Contact Materials.
Traceability.
Double Tubesheet Heat Exchangers.

The separation of the tubesheets ensures that there is no fluid mixing in the unlikely event of a leak, and allows the leak to be easily detected. Using double tubesheet exchangers eliminates the potential for product contamination as the result of leakage.

Surface Finish.

In order to ensure that Yellowstone machinery is cleanable and not additive to the process, we exclusively use 316L stainless steel for metallic product contact surfaces. Stainless steel is highly polished, limiting areas where bacteria and particulate can accumulate. High quality materials and smooth surface finishes ensure that Yellowstone machinery is easily validated in GMP facilities.

Exterior Cleanability.

The Yellowstone FFE is made almost entirely out of stainless steel and PTFE, meaning it will withstand some of the harshest cleaning chemicals that may be used in a GMP facility. Additionally, the stainless steel electrical control station is rated Type 4X, allowing the entire system to be easily sprayed down for cleaning.

Drainability in Lines.

In order for processes to be validated, it is important to ensure that product is not being contaminated by outside contaminants, past batches, or cleaners. One of the ways this is accomplished in a Yellowstone system is with fully drainable lines. Through use of angled lines, strategic drain ports, and careful design, all Yellowstone lines are fully drainable.

Product Contact Materials.

In order to verify that Yellowstone machinery is cleanable and not additive to the process, we exclusively use 316L stainless steel for metallic product contact surfaces. Non-metallic product-contact surfaces are typically FDA compliant PTFE or EPDM. Using high quality materials which are compatible with the process conditions ensures a high quality product free from any added contaminants.

Traceability.

Our GMP models come with an extensive turnover package, containing the necessary documentation to validate the quality of materials. Thorough documentation ensures that Yellowstone systems will be easily implemented into GMP facilities.
---
Our S-Series Turn Over Package
Our GMP equipment is accompanied by a comprehensive Turnover Package containing all the documentation to prove our equipment was manufactured out of suitable materials by qualified personnel. Our S-Series Pro turnover package includes:
Operation and maintenance manuals
Certificate of materials for product contact surfaces and surface finishes
Certificates of calibration for critical instruments
Welding documentation
Testing and examination documentation
---
GMP
As A

Standard

As the market matures, consumers are becoming increasingly aware of what is going into their products. Even when GMP compliance isn't explicitly mandated, certification is still well worth consideration as a lack thereof can result in limited sales opportunities. Apart from exporting globally, even on a domestic scale distributors are increasingly operating with the expectation of GMP. In the current market, GMP is a trusted symbol of both quality and competence.

Sales Opportunities

Global Export

A Trusted Symbol
---
Global GMP
The cannabis industry is rapidly evolving to a global scale with the increase in countries legalization of medicinal cannabis. Often with legalization comes the need for regulation to ensure products are of high quality and safe for human consumption. This can already be seen in Canada, Australia, and many European countries with the mandatory GMP compliance needed for production of medicinal cannabis. In the coming years it is predicted that many African countries will follow suit in the legalization of medicinal cannabis.
---
---
GMP
In The

USA

Although not currently required in most jurisdictions in the US, GMP compliance will likely impact the US medical cannabis industry, particularly when exporting globally. This is why initial planning of facility build outs in accordance with GMP can result in long term savings. Upgrading equipment retroactively to meet standards while staying operational can be an expensive task halting both production and distribution.
Still curious about GMP?
Check out our article "Understanding Good Manufacturing Practices" for more information.
View Article